A writing prompt is the antidote to writer's block.  It is a straightforward writing assignment that anyone can do.  Here are some ideas for using writing prompts to jump-start your creativity .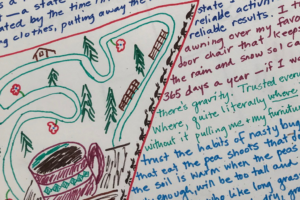 What are some of the things that you trust? (Things, not people or animals. Maybe not even plants.) Think of trust as a form of expectation. Expectations that you know will be met. Is there a fence that you trust? A tool? Furniture? Explain how you reliably expect this object to perform and how that […]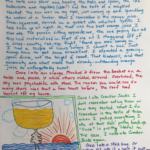 It's possible to provide many details about a person, a place or a time and still make it impossible to identify them.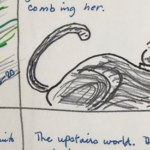 Drain your mind until it's empty then write about whatever plant, animal, or thing pops back in first.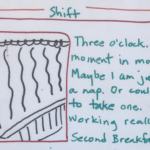 Who comes and goes–in person and electronically? Do your energy and attitude morph throughout the day?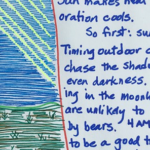 What heats you up? The weather? Anxiety? A responsibility you wish you didn't have? What do you do about it?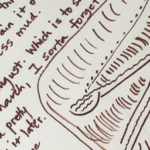 If you have a relationship with an immovable object, you are the one who does all the work.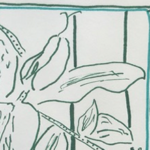 Hopes and plans, clothes and shoes, tools and accessories, people and activities. What's coming up this summer?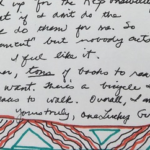 Imagine that you are staying in a splendid vacation spot. Someplace with the best amenities and services.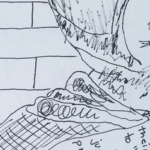 While you draw, listen. To anything you choose: music, the news, another person, an audiobook, or ambient sounds.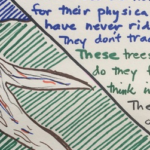 To write about what something is not, you must find a way to think of two things at once.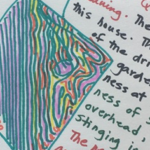 What's temporary in your life? What's more-or-less permanent?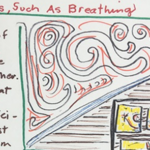 What are the qualities of that special kind of friendship that would make you call someone your pal?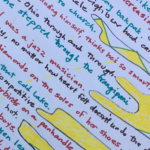 We swim and rivers of people. Everybody has to be somewhere. Think about the names of the people and places you have known.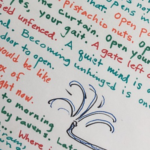 There are open letters, open minds, open houses and open seating. You can open a present, an app, a spigot or a conversation.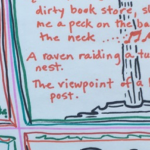 It's easy to forget that every day and every moment are new, whether there's an incurable virus raging about or not.
Look around for growing things, in nature, in your house, in your mind.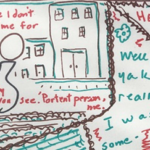 Even when your page seems completely random or utterly lackluster, your mind will keep working on it. Even when you are asleep.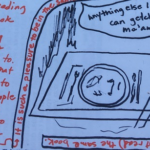 You own your happy memories.  Now is a good time to make use of them.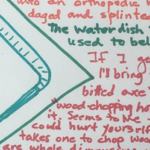 Use your pen to show your mind that your personal universe is much larger than this bad situation. Remember that an atom is comprised mostly of empty space.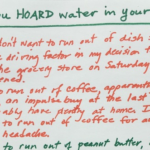 Behind all of the toilet paper jokes and the images of empty shelves in stores is the reality that everyone has things that they don't want to run out of.
Resist the idea that you are supposed to "make sense." Focus on the possibilities of opposite-words and listen to the sentences that pop into your mind.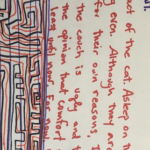 Your opinions belong to you. Write whatever you want about them. Start small–with your immediate surroundings or the events of the day so far.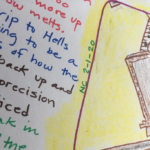 Nobody can do everything. There are zillions of things you can't do, whether you want to do them or not.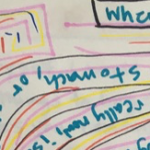 You are going to be writing on the lines of the spiral, so as the spiral grows, keep the lines at a distance from one another that will be good for writing on.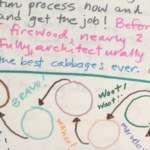 You've done all sorts of things right lately, but since they don't need your attention anymore, you've forgotten a fair number of them.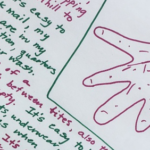 What have you dropped, tossed, or put away? What have you forgotten? When letting go is easy, you don't even notice yourself doing it.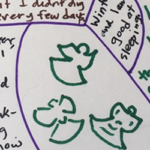 Shoveling snow, walking on ice, thawing frozen pipes, scraping off a car, and dressing for the cold aren't known for their universal appeal.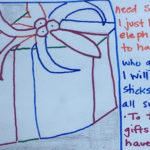 Imagine yourself with the wealth and power to bestow any kind of gift on anyone or anything.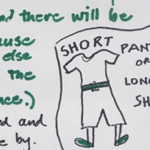 Whether something is long or short depends on the context and on a person's perspective.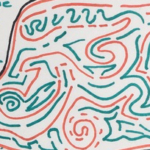 When will you close your eyes, cover your ears, or plug your nose? What will you turn away from? What foods will you leave on the plate?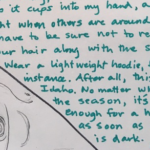 We can speak of light both literally and figuratively. Light is what eliminates the problems that darkness creates.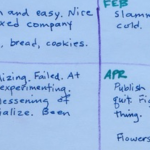 Sometimes you can trick unexpected insights from your mind by mapping your disorderly memory onto an orderly calendar.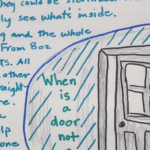 Jars of affection. Jars of time. Jars of forgotten events. What would you like to put in a jar to preserve until a later date?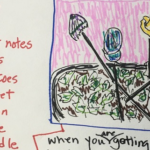 What words evoke what you see, hear, taste, smell and feel on your skin? Make a list that runs the length of the page.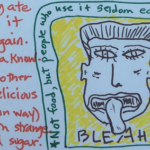 Have you ever eaten the foods that you dislike? What is the origin of your revulsion? How do you react when you watch others eat it?
How do you react?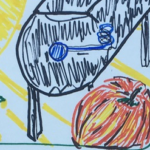 Write the sentences in any order.  You can begin with a true statement or a false one.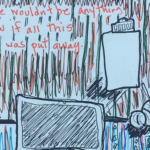 Concentrate on the shapes that you see in front of you. Rather than naming the things that you see, name their shapes: triangle, rectangle, circle, oval, blob.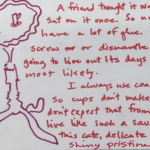 They are everywhere–in houses and restaurants, on sidewalks and in parks, at work. You also have tables in your memory and in your imagination.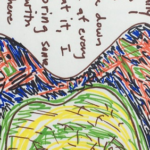 Use the phrase "I wonder where…" to begin the first sentence that you write. When you don't know where something is, maybe it is lost. Maybe you don't even expect to see it again. You can wonder where a person is, too. You can wonder about a place where something will happen in the future. A person […]
Before you start writing, set up your page. Draw a line where the title will go and mark off some space for illustration. Then collect a half-dozen or so good words. A word is a good one when it jumps out at you for some reason. Maybe you think the spelling is odd. Maybe it reminds […]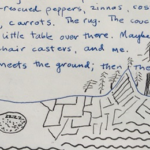 One can break, give, or stand ground. Something can be ground in, ground out, or run into the ground. There are groundswells, ground rules, and shifting grounds.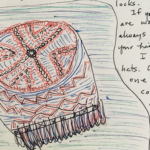 On your head, in your pocket, under the couch. On someone else's head, or in their pocket. Hats are everywhere.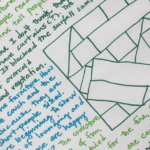 Tables and couches are certainly furniture.  Are curtains, counters, and closets furniture? What about a bathtub?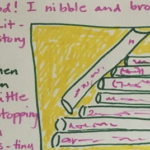 You can go on a field trip in your imagination. Do this by traveling in memory. Or do this by making things up.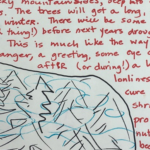 What happens in the natural world when rain begins to fall after a period of drought? How does the built world change when rainwater pours over it once again?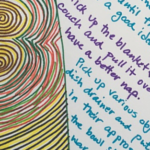 Some things, such as the flu or an ear-worm tune, can be picked up, but you can't put them back down.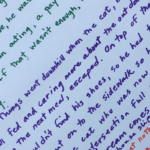 Imagine a character who has one bad or disappointing thing after another happen to them.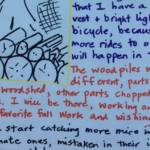 Technically, it will be summer for another month, but the slow glide into the fall season has already begun.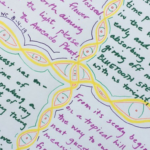 Adopt the voice of an emcee, the one who stands up on stage and gets the audience excited about what is to come.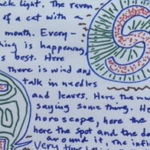 The only requirement is that when you arrive at one of the ornate letters, you must use that letter in what you are writing.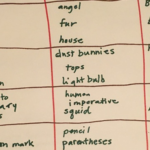 …An observation about the process of filling the columns. A thought that passed through your mind as you were writing down words. Whatever pops into your head and fits into the tiny space allowed…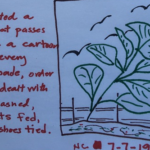 Your invention needn't be constrained by gravity, the speed of light, or the rules of logic.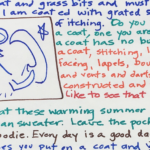 A person can wear an imaginary coat that has imaginary powers, such as a coat of confidence, reverence, or pride.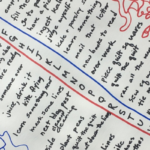 When your mind is pleasantly wandering, are your more likely to daydream about your bucket list or dwell on your many accomplishments?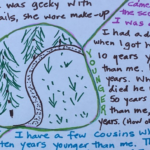 People and things. Animals, vegetables and minerals. Which are 10 years older than you? Which are 10 years younger?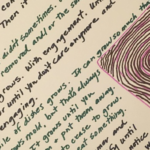 Whatever isn't growing might have been growing once. Or it might start growing soon. What never stops growing?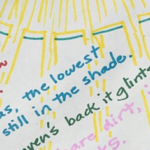 Whether it is rising, setting, or going behind a cloud, the sun is always shining. Without sunlight, there wouldn't be much life-as-we-know-it here on earth.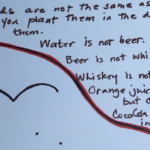 When you describe what something is not, your awareness widens to an infinity of possibilities.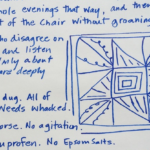 While it's true that in overcoming pain, a person often grows, it's not true that the way to grow is to inflict pain on yourself.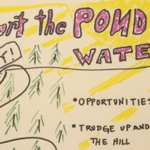 Make it seem like taking care of this obligation is an opportunity no one would want to miss.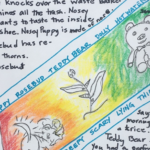 You might end up with a character who has a name like Devious Kitten, Wicked Daffodil, or Vicious Duckling.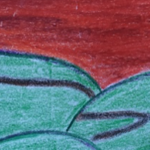 Begin with the sentence, "Sometimes the sky is red." Then enjoy where the ramble of your writing takes you.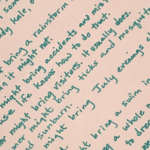 Over the next few weeks everything from the sky to the shrubbery will shed its memory of winter. What will the summer bring?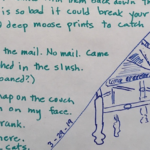 You can write anything, even a series of unrelated sentences. The important thing is to use only one-syllable words.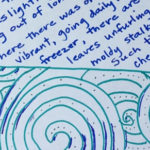 What no longer exists in its old form? A shirt, a pet, the carpet, a memory, a friendship, a vehicle?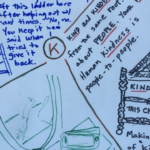 Pick a section and doodle in it until a random thought about kindness floats into your mind.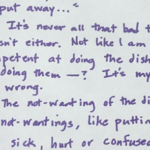 What contributed to your reluctance? Inertia, fear, common sense, warnings, fatigue, information, experience…?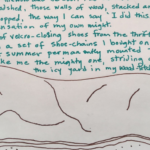 A person can act with physical might or be bolstered by mighty clothes, tools and accessories.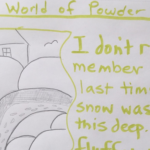 Sometimes your writing practice can feel like a burden. How can you make time to write a page when already there is not enough time for what you must do?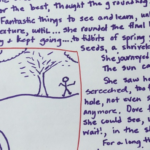 Is the groundhog story one of timidity or perseverance? Is the groundhog a rebel, an outcast, or a pioneer? When have you been like the groundhog?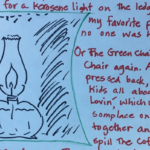 So much sitting, so little time! Tell any story at all, as long as it has something to do with sitting.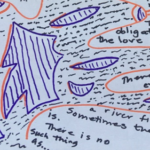 Close your eyes, relax your mind, and loosen it from its grip on the way things ought to be.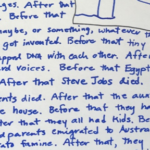 The important thing is to keep the alteration going, zig-zagging in time as you work your way down the page.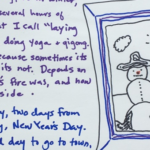 Begin writing by describing what you do on Tuesdays. You can include things that happen on other days as well, as long as they also happen on Tuesdays.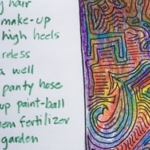 Think about all that is uncertain. What you hope for. How surprises can change everything. What you don't know yet.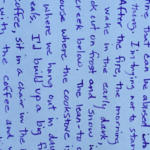 Because rituals are reliably repetitive, we benefit from their rhythms. Families have them. So do sports teams, friendships and clubs.
What are you wearing? Who do you look like? What don't you remember? Use what you know about yourself to invent somebody new.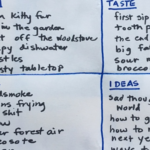 We use our senses to understand the world. We also ask questions and think things up.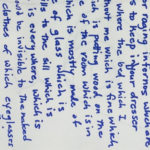 Resist the urge to write a coherent narrative. Let each detail lead to another.  Don't plan.  Don't look back until you have reached the bottom of the page.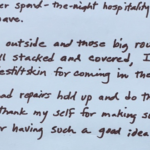 You can thank other people, inanimate objects and invisible forces. You can thank yourself.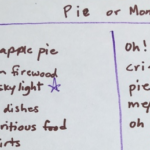 A pile of "shoulds" on your back can weight you down so hard that you can't get anything done.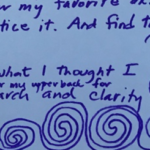 Cartoon heaven is built upon clouds that look like pillows. Wedding rings and royal crowns are often delivered on pillows. But not pizzas.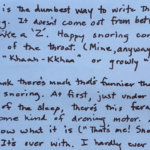 How do you manage situations when you can't sleep even though you need to, or when you are sleepy but must stay awake?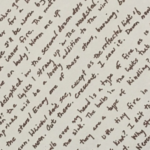 Unless everything is dark and stone-cold frozen, there has to be a fire somewhere.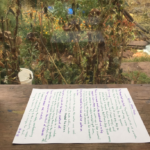 After each thought you have recorded about the present, add some related details from the past.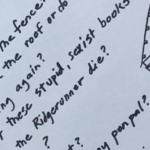 The only requirement about the questions is that you not know the answer to them already.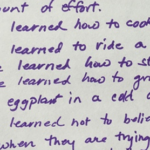 Compare yourself to a newborn. Everything you know and everything that you can do is evidence of what you have learned in your life.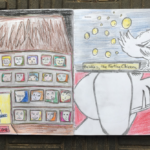 You can make anything–arts and crafts, piles of laundry, order in your room.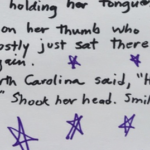 Describe situations where you received help. Don't tell what you needed or why the help was important.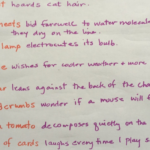 Even when your first thought is that a thing is sitting there doing nothing,, everything is doing something.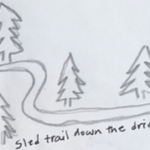 Use clothing, accessories, tools, and details that show how your life and routines are different in opposite seasons.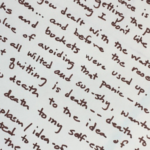 Think about the tasks and chores of a day as "acts of hospitality" to yourself.  That is a perspective where you are a guest and a host at the same time.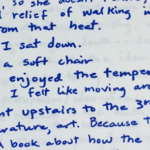 Go to the library.  Turn on your powers of observation.  Step out of the weather and into a different world.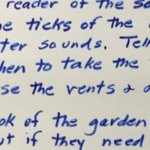 People read words. People also read the world.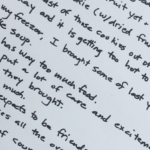 Write a dialog that is at odds with itself, swinging from cheerful to gloomy, going back and forth with each sentence.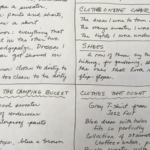 Clothes you love and clothes you hate. Clothes that you would never wear to church.  All those clothes you keep but never wear…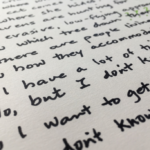 We all know a lot of things. Then there is so much more that we don't know.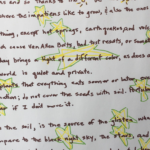 Can you describe a shadow without describing the sun?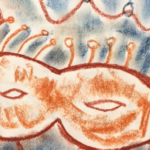 Sometimes we make ourselves comfortable by blending in. Sometimes it's important to stand out.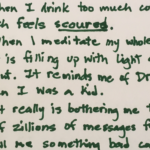 Proprioception is the sense that tells us where our bodies are in space. Interoception sends us information about what's going on inside our bodies.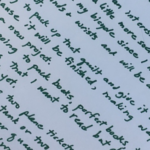 If you could pack a suitcase with everything you needed for a whole summer, what would you put in it?