A writing prompt is the antidote to writer's block.  It is a straightforward writing assignment that anyone can do.  Here are some ideas for using writing prompts to jump-start your creativity .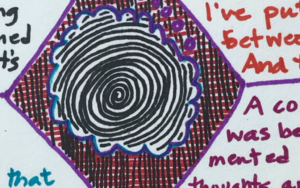 It's impossible to change the past with the force of your imagination, but that doesn't mean we don't try.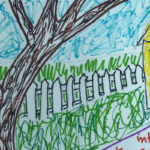 You can find apples on trees, on the ground, in your fridge. They can be in pies, vinegar, stories and popular expressions.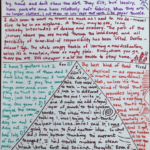 You do this by saying the first thought out loud. Yes, out loud, with your voice and lips. Then write what comes to mind next.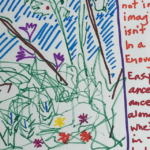 Any old thought. About the past, present, or future. About wisdom or bad advice. About nuclear physics or sculpture. No pressure to be profound.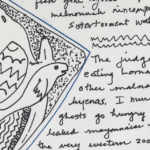 Don't burden yourself with a requirement to "make sense." Let the words roll out and see what kind of word salad they make.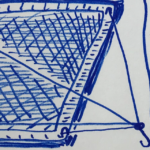 If you write from the point of view of an object, will it brag or complain? Will it sound like a child or a space alien?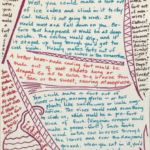 Begin with the word "Well…" That signals that you are coming up with any old idea without committing that it will be a good one.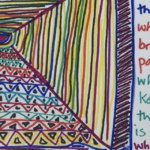 Everybody's got to be somewhere. So does everything. Everything that happens, happens somewhere.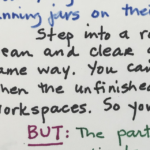 If you kept a chore score, what chore would you have done most in your life?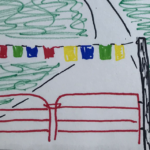 "Arriving home" can be a moment or a process. It can involve stepping through a doorway, of course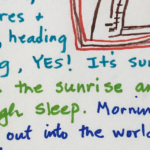 One minute you are going about your business, doing the next task at hand, then suddenly the awareness hits…. It's summer!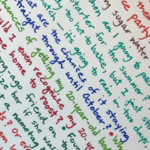 When you start with "What if…" a zillion (or two) questions should come to mind.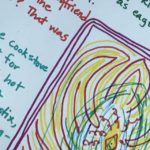 Some fires turn things to smoke and soot. Others issue warnings or bring change.
You can hold a round ball in your hand, but how do you know that the earth is round?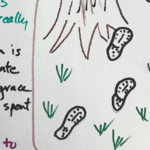 Some shoes–traveling shoes, crying shoes, big-girl shoes are metaphorical and real at the same time.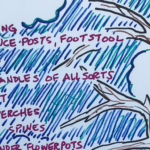 Consider trees. Their biology and mythology. Their leaves and needles, fruits and shade. All the things that can be made from them.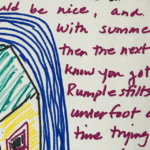 Do you have a metaphorical pile of straw that you wish Rumpelstiltskin would spin into gold.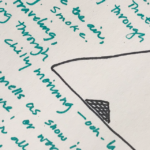 Without air, much of the world-as-we-know-it wouldn't function: candles, car engines, bullhorns, vacuum cleaners.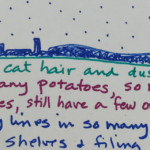 A new thing becomes abundant and something else fades away. This the process we call change.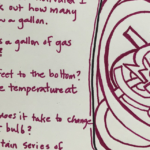 Are there numbers you like and dislike? What can you do with a lucky number?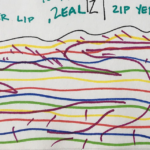 Everybody has a mind. Everybody has a body. Is there a line between the two?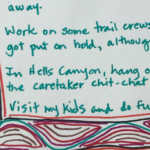 There's a light at the end of the tunnel. What does it shine on for you?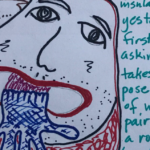 When is a glove not a glove? Think of mittens or fingerless gloves. Or whatever you do when you need a glove and can't find one.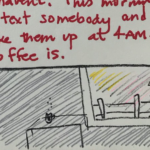 Can you write and be relaxed at the same time? What changes when you try?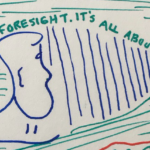 Fiddle around, making squiggles upon squiggles, until some faces start to emerge.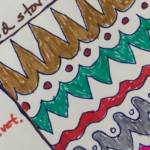 People have different learning styles, preferences and experience. What's easy for you?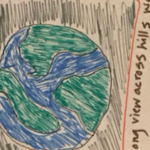 What happens to the English language if you skip all the words that are less than four letters long?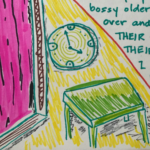 Shadows have shapes and colors. If there is light, there will be shadows.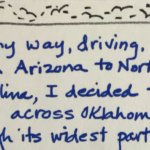 The stories in your life can be big, little, exciting or dull. They might center on places, people or events.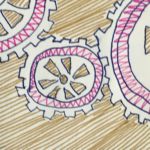 Objects that are so well-made you barely notice you are using them. Art that affects you.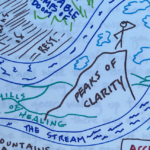 Our lives don't run straight. They wander through landscapes of possibility and surprise.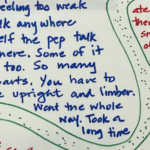 Thinking about what changes over a 48-hour period can help you examine it more closely and notice the nuances.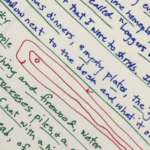 An exercise that helps you disorganize your thoughts, and connect them to something new.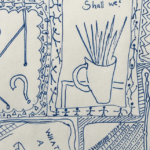 An opportunity to observe what drawing, doodling, and writing have in common.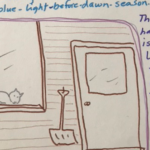 Seasonal cycles can be minutes, days, months or even years long. Laundry season. Snow-shoveling season. Global pandemic season.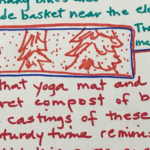 Begin with facts. Observations about your surroundings that any other person would agree with.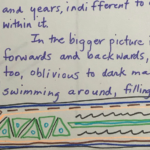 You can zoom out in space, or in time. You can even zoom into realms of greater understanding.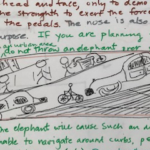 Instead of explaining what to do, explain what not to do.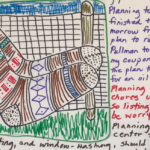 What are your immediate plans? Your newest plans? Your post-pandemic plans? Do you have a plan not to plan?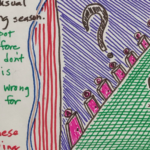 Even if we make the same choice every time, it's still a choice.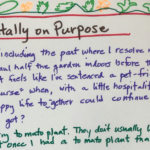 Anything that isn't from an animal or a mineral counts as a vegetable–green beans, wooden tables, cotton shirts.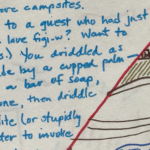 If you are alive and on this planet, there is water nearby. In your body. In plants and animals. In underground lakes and rivers. In the sky.
Sometimes you are all but certain disaster is going to strike–and then it doesn't. Ah, sweet relief.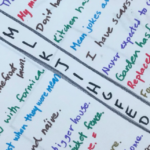 You might notice a turning point as you pass through it, or only come to understand it in retrospect.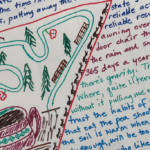 What are some of the things that you trust? (Things, not people or animals. Maybe not even plants.) Think of trust as a form of expectation. Expectations that you know will be met. Is there a fence that you trust? A tool? Furniture? Explain how you reliably expect this object to perform and how that […]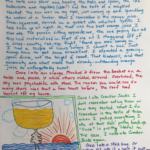 It's possible to provide many details about a person, a place or a time and still make it impossible to identify them.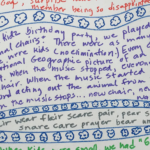 A chair you have known. One you have forgotten. A chair that isn't a chair at all. 
Each of us lives at the center of our very own universe. We explore it with our awareness. Can you be aware of your awareness?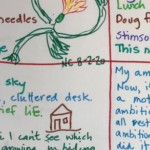 The present. What your senses take in. Physical and emotional states. The contents of your mind and imagination.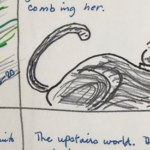 Drain your mind until it's empty then write about whatever plant, animal, or thing pops back in first.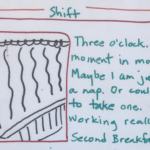 Who comes and goes–in person and electronically? Do your energy and attitude morph throughout the day?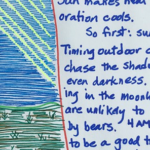 What heats you up? The weather? Anxiety? A responsibility you wish you didn't have? What do you do about it?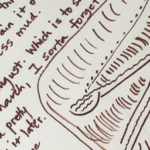 If you have a relationship with an immovable object, you are the one who does all the work.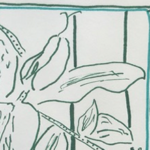 Hopes and plans, clothes and shoes, tools and accessories, people and activities. What's coming up this summer?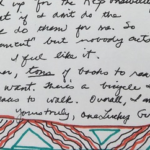 Imagine that you are staying in a splendid vacation spot. Someplace with the best amenities and services.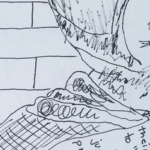 While you draw, listen. To anything you choose: music, the news, another person, an audiobook, or ambient sounds.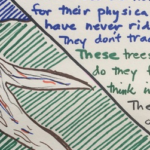 To write about what something is not, you must find a way to think of two things at once.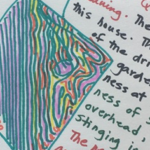 What's temporary in your life? What's more-or-less permanent?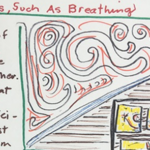 What are the qualities of that special kind of friendship that would make you call someone your pal?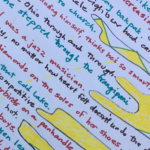 We swim and rivers of people. Everybody has to be somewhere. Think about the names of the people and places you have known.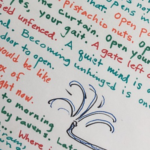 There are open letters, open minds, open houses and open seating. You can open a present, an app, a spigot or a conversation.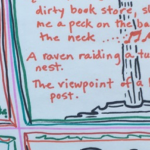 It's easy to forget that every day and every moment are new, whether there's an incurable virus raging about or not.
Look around for growing things, in nature, in your house, in your mind.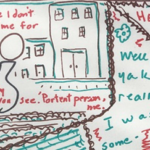 Even when your page seems completely random or utterly lackluster, your mind will keep working on it. Even when you are asleep.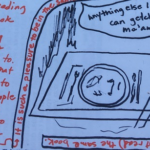 You own your happy memories.  Now is a good time to make use of them.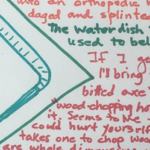 Use your pen to show your mind that your personal universe is much larger than this bad situation. Remember that an atom is comprised mostly of empty space.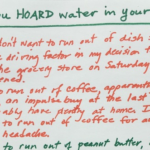 Behind all of the toilet paper jokes and the images of empty shelves in stores is the reality that everyone has things that they don't want to run out of.
Resist the idea that you are supposed to "make sense." Focus on the possibilities of opposite-words and listen to the sentences that pop into your mind.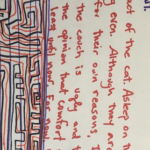 Your opinions belong to you. Write whatever you want about them. Start small–with your immediate surroundings or the events of the day so far.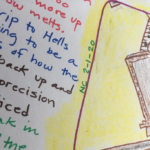 Nobody can do everything. There are zillions of things you can't do, whether you want to do them or not.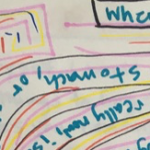 You are going to be writing on the lines of the spiral, so as the spiral grows, keep the lines at a distance from one another that will be good for writing on.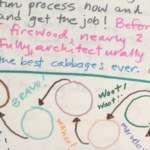 You've done all sorts of things right lately, but since they don't need your attention anymore, you've forgotten a fair number of them.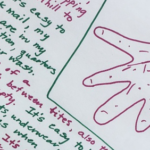 What have you dropped, tossed, or put away? What have you forgotten? When letting go is easy, you don't even notice yourself doing it.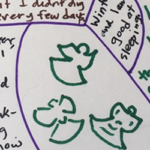 Shoveling snow, walking on ice, thawing frozen pipes, scraping off a car, and dressing for the cold aren't known for their universal appeal.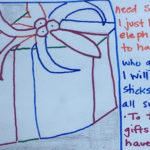 Imagine yourself with the wealth and power to bestow any kind of gift on anyone or anything.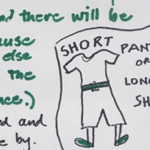 Whether something is long or short depends on the context and on a person's perspective.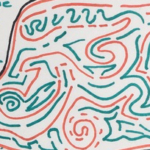 When will you close your eyes, cover your ears, or plug your nose? What will you turn away from? What foods will you leave on the plate?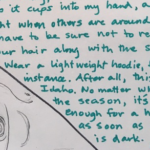 We can speak of light both literally and figuratively. Light is what eliminates the problems that darkness creates.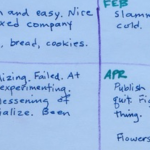 Sometimes you can trick unexpected insights from your mind by mapping your disorderly memory onto an orderly calendar.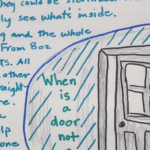 Jars of affection. Jars of time. Jars of forgotten events. What would you like to put in a jar to preserve until a later date?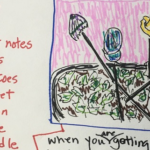 What words evoke what you see, hear, taste, smell and feel on your skin? Make a list that runs the length of the page.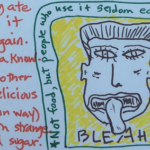 Have you ever eaten the foods that you dislike? What is the origin of your revulsion? How do you react when you watch others eat it?
How do you react?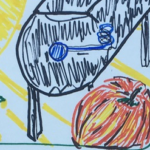 Write the sentences in any order.  You can begin with a true statement or a false one.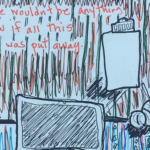 Concentrate on the shapes that you see in front of you. Rather than naming the things that you see, name their shapes: triangle, rectangle, circle, oval, blob.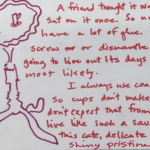 They are everywhere–in houses and restaurants, on sidewalks and in parks, at work. You also have tables in your memory and in your imagination.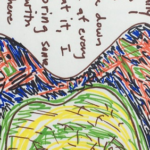 Use the phrase "I wonder where…" to begin the first sentence that you write. When you don't know where something is, maybe it is lost. Maybe you don't even expect to see it again. You can wonder where a person is, too. You can wonder about a place where something will happen in the future. A person […]
Before you start writing, set up your page. Draw a line where the title will go and mark off some space for illustration. Then collect a half-dozen or so good words. A word is a good one when it jumps out at you for some reason. Maybe you think the spelling is odd. Maybe it reminds […]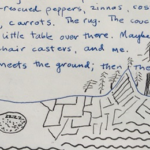 One can break, give, or stand ground. Something can be ground in, ground out, or run into the ground. There are groundswells, ground rules, and shifting grounds.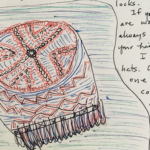 On your head, in your pocket, under the couch. On someone else's head, or in their pocket. Hats are everywhere.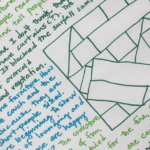 Tables and couches are certainly furniture.  Are curtains, counters, and closets furniture? What about a bathtub?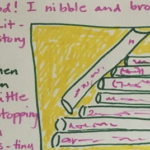 You can go on a field trip in your imagination. Do this by traveling in memory. Or do this by making things up.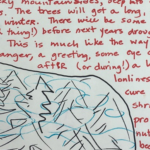 What happens in the natural world when rain begins to fall after a period of drought? How does the built world change when rainwater pours over it once again?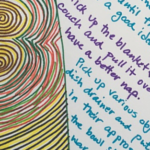 Some things, such as the flu or an ear-worm tune, can be picked up, but you can't put them back down.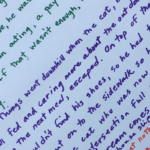 Imagine a character who has one bad or disappointing thing after another happen to them.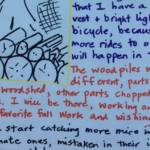 Technically, it will be summer for another month, but the slow glide into the fall season has already begun.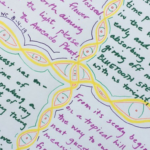 Adopt the voice of an emcee, the one who stands up on stage and gets the audience excited about what is to come.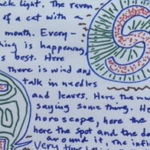 The only requirement is that when you arrive at one of the ornate letters, you must use that letter in what you are writing.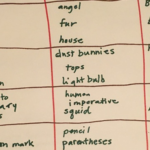 …An observation about the process of filling the columns. A thought that passed through your mind as you were writing down words. Whatever pops into your head and fits into the tiny space allowed…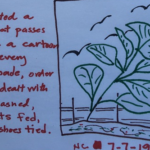 Your invention needn't be constrained by gravity, the speed of light, or the rules of logic.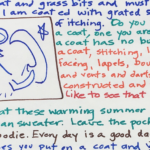 A person can wear an imaginary coat that has imaginary powers, such as a coat of confidence, reverence, or pride.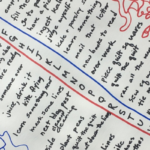 When your mind is pleasantly wandering, are your more likely to daydream about your bucket list or dwell on your many accomplishments?