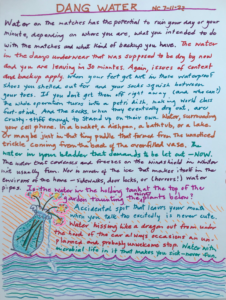 Water is life, right? Without it we'd all be dried out and dead. Even so, water can be really annoying sometimes.
Water leaking in from somewhere. Wet clothes. Rain on your parade.
Make a list of ways that water can ruin a person's day. Or tell a story about a time when water made you (or someone else) miserable.
Illustrate your work, or doodle on in while you are waiting for ideas to come.
Give your work a title. Put a signature and the date on it, too.