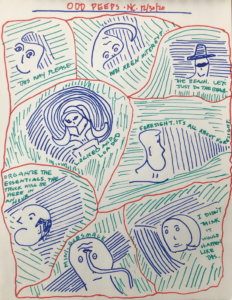 Begin by drawing a half-dozen or so random squiggles distributed more-or-less evenly around the page.
Choose a squiggle and add a few more marks to it. Fiddle around with it until some kind of face emerges. When you notice the face, add to it.
Turn all of the squiggles into some kind of face. Skip around.
Add some words to go with each face. A caption, perhaps. Or a cartoon bubble that shows thinking or speaking.
When the page is complete, try to think up a title that hints at a story behind the faces.
Sign your work and write the date on it, too.