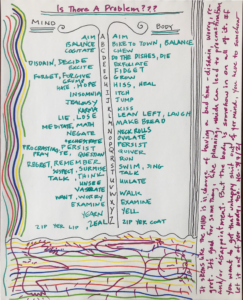 Where is the line between your mind and your body? Nobody really knows, so it is something you can explore for yourself based on your experience.
Begin with page setup: Draw a line from the top to the bottom of the page, about an inch or so from the right-hand side. In the large remaining space, draw a line where the title will go and beneath it, make two column headings: Mind and Body. Down the center of the page, dividing the two columns, write the letters of the alphabet A-Z.
In the Mind column, write down a word that begins with each letter which is something that you can do with your mind. In the Body column, write down words for things you can do with your body.
Sometimes you will write something in a column and after some thought, realize it could go in the other column, too. In that case, write it twice.
Turn the page sideways so the inch or so of blank space runs side-to-side. Write down a thought or comment about minds and bodies that occurred to you as your were making these two lists.
Write a title at the top of the page. Put your signature and a date on the page as well.