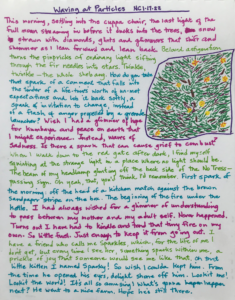 Sudden little pinpricks of light. The world is full of them. Write about things that glint and shimmer.
Twinkles from the night sky. Diamonds in the snow. Static electricity.
Sometimes they quickly fade. Other times they start uncontrollable chain reactions.
Sometimes they aren't even things: sparks of insight, glimmers of recognition, flashes of rage…
Fill a page with sparkly ideas. Give your work a title. Put a signature and the date on it, too. Include some decoration or illustration, if you like.