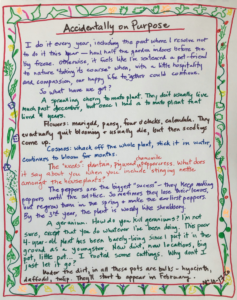 A vegetable is significant to you if it fills a meaningful role in your life.
A vegetable is just about anything that isn't an animal or a mineral.
Obvious vegetables are the ones we eat–or ought to. Unwelcome vegetables include mold and the grass that sprouts in a houseplant.
Many objects are manufactured from vegetables–wooden tables, willow baskets, pencils and even some types of plastic.
What about ethanol?
Choose one or more of such vegetables to write about. Perhaps tell your history with it, or why it's meaningful to you. Maybe describe what it looks like or where it can be found.
Include drawing, decoration, and color if you like.
When the page is full, invent a title. Write your initials and the date on the page, too.