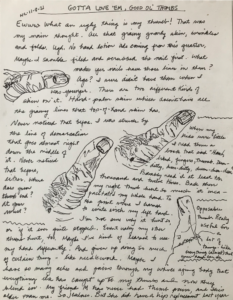 Are writing and drawing different versions of the same thing? Or are they two entirely different activities?
Spend most of your writing time drawing and see what you think.
Draw your thumb. In ink. So you aren't tempted to erase and make it perfect. Simply look at your thumb and make whatever marks (lines, scribbles, curves, dots)  that the details of your thumb inspire.
Do it multiple times. And then one more time when you wish you were "done."
Write something on the page, too. About the experience. About thumbs. About anything.
What do you think? What is the relationship between writing and drawing?