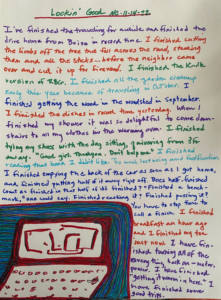 How many things have you finished today? Are you dressed? fed? Have you stood up or sat down? What else have you done?
Write sentences that begin with "I finished…"
Have you passed any milestones lately? Gotten something out of the car or off the desk?
Perhaps you've done someone a favor.
How many of those ever-repeating tasks have you ticked off your list lately? Tasks like laundry, brushing your teeth, taking out the recycling, doing the dishes–the ones that as soon as they are finished, they start needing to be done again?
If, as you are writing, you think of things that aren't finished, don't write about those.