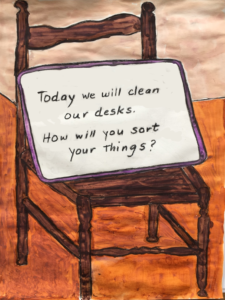 In the school where Ms. K taught, students would begin trickling into Room 103 a quarter of an hour before a school-wide bell rang to announce the start of the school day. In the classroom, the designated Bell Ringer rang a tiny hand bell on Ms. K's desk exactly 10 minutes after the school-wide bell had rung. The little bell signaled that it was time for the students to be in their desks and ready to begin their day.
Here is a summary of my observation notes from an October morning before the little bell rang, about 5 weeks into the school year:
Susan, Katherine, and Nina are in the first wave of students who burst into the room. They stop and study the chair sign. Nina's lips articulate the words.
Paul strides into the room exuding purpose. He checks the chair sign, walks directly to his desk and rights his chair. Speaking to no one, he glances quickly about the room, walks to the Library, pulls out a book, and settles on the floor to read, remaining absorbed until the little bell rings.
Bill brushes past the chair sign and it slips to the floor. Daniel helps him put it back.
Peter shuffles through a stack of drawings on a shelf, pulls out a sheet with his name printed on it and waves it in front of Ms. K.
"Ms. K! Ms. K! Look! Warm colors and cool colors!"
Peter then rights his chair, leaves the paper on his desk, and moves to the Listening Center which is to the left of where I am sitting. On a small table there are two baskets of cards with students' names printed on them. He finds the card with his name, plucks it out and turns to me.
"This is not right," he declares. He points to me and makes as if I should be writing. Then he mimes putting on a set of headphones, then shakes his head. "I haven't done it yet," he whispers. "It doesn't go here." He places his card in a different basket, then runs to the other side of the room and signs up to conference with Ms. K during Writing Workshop.
At the Science Table to my right, Michelle, Lyn and Tammy adjust the position of a gooseneck lamp over a colander full of soil. Michelle turns to me and explains, "We are checking to see where worms go when it gets hot."
Michael crosses the room to meet Jack at the door. They whisper. Michael bursts back into the room. "Aww, no! Still no Mystery Object yet!"
Several students have joined Paul on the floor reading. A few others are drawing and writing at their desks or at tables. A clot of boys around David's desk finger and examine a toy car. Another group clusters around Ms. K. Several notes from home have landed in a basket on her desk. Jane sits perfectly straignt in her seat, hands folded.
When the little bell rings, most of the students are already in or near their desks. Ms. K. moves to the front of the room and stands tall. Within a minute, everyone is in their seat and looking at her. The day has begun.
"The day doesn't really start with the discussion, does it?" I ask Ms. K. later. "Everyone starts their own day before the little bell rings."
"You do get it, don't you!" she laughs. "I learn things in that time that I couldn't learn any other way. Before we begin together, I know who is tired or upset. I find out what they think is important among the things that are set up in the room. Sometimes I can see what different ones are going to want to work on or finish during the day. They need this time. Why should I expect them to come in the door and—snap!—focus on what I think they should think about."
She explains that professionally, it is her responsibility to see that the classroom is working. When it is, the children are motivated, busy, and self-directed. That's when she can observe and evaluate them.
"There is so much more to learn about them than whether or not they can sit still and do what I say," she says. "I can't tell you how many times someone drops in to observe during a time when everybody is busy and they tell me they'll come again later—when I'm teaching!