A Daily Discussion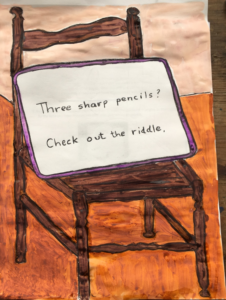 An elementary school teacher, Ms. K, said this about the discussion she leads first thing each morning: "In this time period, I teach to the top.  It sets the standard for what I want.  They know what they are striving for.  Some people say that you should teach to the middle." She shrugs. "I think it is very frustrating for them when you start in the middle and keep raising the bar."
When I started observing in her classroom, I wouldn't have called what I was seeing "teaching to the top." It didn't seem like much of a "discussion."  Ms. K did most of the talking, answering her own questions more often than not.  Only a couple of students paid attention for the full half hour. Most fidgeted at some point.  A few whispered, and one child regularly got out of his seat and wandered around the room.
Several weeks passed before I started to grasp what she was doing.
Notes on a classroom observation
It is the second day of school.  The students are all in their seats and the administrative business of the morning (attendance, notes from home, lunch count) is finished.  Ms. K stands in the front of the room and opens the morning discussion with a question.
"Who read the Chair Sign this morning?"
Silence.  No hands go up.  Ms. K scans the room.  Finally, David motions tentatively.
"David did.  David, did you notice that the Chair Sign said exactly the same thing that it did yesterday?"  He gives a meek affirmative response, looking away and down at the same time.
"Who can guess what the Chair Sign says?"
A few murmurs ripple.  There is recognition on some faces.  No hands move, not even David's.  Ms. K walks across the room and takes the sign from where it's propped on the seat of a chair just inside the door.  She carries it back across the room and stands it on a nearby chair.  It reads:
3 sharp pencils?
Check out the riddle.
She speaks with great seriousness.  "I noticed that when some of you came in the door and saw this sign, you stopped right in your tracks to read it so you could know what was written there.  It's always important to find out what the Chair Sign says. Every single morning.  Especially when there are question marks.  Question marks are a signal that we have to find out something from you."
Ms. K mimes as she speaks: first, as if she's stopping suddenly and standing still to read the sign, then touching the question mark and nodding. She continues to talk, acting out various roles.
"Now… I know some of you can't read, but that doesn't mean you can't find out what something says.  If you can't read something, you just go up to somebody and say, 'Hey!  Tell me.  What does that say?'  Will they say, 'Read it yourself?'  NUH-UH!  That is not something we ever say in here!  Everybody in here is a teacher.  And what if the person you ask can't read it either?  Then you can be partners and find out what it says together."
She doesn't say what the Chair Sign says, nor does she ask anyone to read it aloud.
"Now it's time for us to read the three paragraphs of the Good Morning Board.  What's a paragraph?"  Faces turn away.  Nobody responds…
Teaching to the Top
Eventually, I realized that in the very first days of school, Ms. K was showing the students the level of conversation or discourse she expected from them during this half-hour discussion.  She wanted them to ask and answer questions, think, listen to each other and discuss one topic at a time.  She didn't expect them to know how to do that.  Although she was doing most of the talking, she was teaching them about the kinds of things they could say in the discussion.
"Some of these kids have never had the experience of having someone turn to them and ask in all seriousness what they think," she told me. "You can see the shock on their faces. 'What? Me? Think???' It takes some practice before some of them can actually put their thoughts into words.  But if you show them how and show them that you expect it, eventually everyone catches on.
The next day she will ask them, "Did anyone notice whether the Chair Sign still says the same thing it said yesterday?"
---
This is part of a sequence of essays about visits to Room 103. Names and other identifying details have been altered to protect people's privacy.