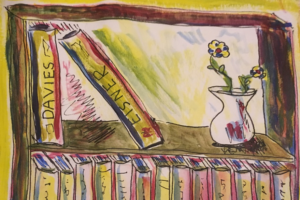 During the time I was visiting Room 103, these two books offered valuable insights that helped me interpret what I was observing:
Life in the Classroom and Playground by Bronwyn Davies
The Enlightened Eye by Elliot Eisner
Bronwyn Davies carried out a research project at an elementary school by setting up a space in the library where children could spend their spare time playing with modeling clay.  She studied what they talked about.
The students chatted about their world—school.  They rehashed daily dramas, large and small.  They explained their own behavior and hypothesized about the motivations of others.  What became apparent was that the children did not navigate the school environment in the way that the adults assumed they did.  Even when adults design and organize a school and classroom environment with children in mind, it can take children a long time to learn how to use the structures that are set up.  Rules and procedures that seem obvious to teachers can be utterly bewildering to students.
In Room 103, Ms. K often seemed like a tour guide, introducing the children to a foreign land.  At certain times they are expected to stand or sit, talk or be silent.  They must keep track of their belongings, understand a schedule. She speaks to them as if she doesn't expect that they would know what to do all the time, always offering strategies for getting along.  She reacts to "misbehavior" as mistakes.  When two children make a joke of turning the chair sign up-side-down, she thanks the student who rushes to tattle. "Oh, you've noticed something that's wrong.  Can you fix it?  Do you need help?"
"Of course I have a plan for each day," Ms. K explained to me, "but the really interesting things come from the students.  It can be something someone has in their pocket or somebody completely misunderstanding what I asked them to do.  You never know.  I love to watch the way information moves through the room."
In The Enlightened Eye, Elliot Eisner uses the notion of "connoisseurship" to explain how it is possible to have a classroom that is spontaneous but not chaotic. When you think of a connoisseur of art or fine wine, you imagine someone with sufficient experience to absorb complexities and make fine-grained distinctions. He calls for teachers to be connoisseurs of children, saying that connoisseurship is grounded in appreciation.
I was able to see that the decisions Ms. K was making as she taught the children how to function in the classroom were coming from what Eisner called "connoisseurship."  When I observed in her classroom, she had been teaching for 20 years.  She didn't think of herself as using any particular methodology.  "Oh, I've tried them all!" she laughed.  She often answered questions about what she did by asking, "What else could I have done?"
How can a beginning teacher benefit from the knowledge and experience of someone like Ms. K?  Clearly, she knows how to organize a classroom and show children how they can learn and grow there.  Yet she can't quite explain what she does.  Eisner wouldn't put the burden of explanation on Ms. K.  Beginning teachers, he says, benefit from becoming connoisseurs of classrooms, appreciating their complexity and learning to make fine-grained distinctions about what they see.
I was lucky.  Not everyone gets to do that.
---
This is part of a sequence of essays about visits to Room 103. Names and other identifying details have been altered to protect people's privacy.