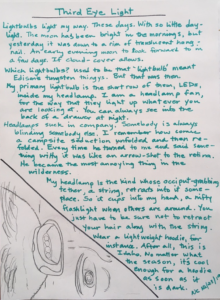 Today, in the northern season of minimal sunlight, write about light and how useful it is.
In a literal sense, light helps us move our physical bodies past obstacles without getting hurt. Light eliminates the problems that darkness creates.
We speak and think of light figuratively, too. The light inside a person's mind, heart, or self. How does this kind of light show the way?
Write about a single incident, or write about a single lamp, literal or figurative.
When you have filled a page, add illustration if you like and give your work a title.  Write the date on it, too.