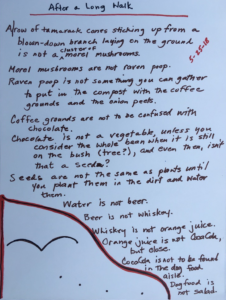 In order to describe something, your awareness narrows to focus on what you are describing. When you describe what something is not your awareness widens to an infinity of possibilities.
This exercise invites your mind to relax, open up and travel widely.  It's also an opportunity to awaken your whimsey.
Begin with something: an object in front of you, a memory from earlier in your day, or the first word that pops into your mind.  Write down what it is not. Expand on that thought a little bit if you would like.
Choose a word from what you have just written. On a new line, begin writing about what it is not.
Once you have written a couple of lines, choose a new word from what you have just written.  Begin a new line and write about what it is not.
Continue in that pattern until you have filled a page.
Add illustrations, decoration or doodling to the page as you see fit.  When you have finished, give your work a title.  Write the date on it as well.