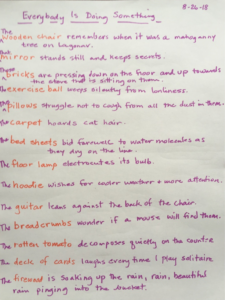 Look around you and make a list of the things you see.  Write each item on a separate line on the left-hand side of the page, skipping a line between each one.
Next to each item on the list, write a sentence that describes what that thing is doing.  Even when your first thought is that the thing is sitting there doing nothing.  You might have to twist your perspective a bit and see things from the point of view of the pillow flopped on the couch or the couch remembering better days.
Be sure to give your work a title and write the date on it somewhere. Add artwork, color, and decoration as needed.
Here is a more detailed version of these directions.