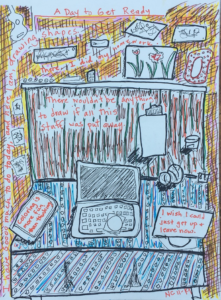 Situate yourself in front of some kind of scene, indoors or out.
Concentrate on the shapes that you see in front of you. Rather than naming the things that you see, name their shapes: triangle, rectangle, circle, square, oval, blob.
Begin drawing the shapes as you see them. Spread them out on the page in the same way they are spread out in front of you.
Write some words somewhere on the page.
Return to the shapes and add more details.
Alternate between working on the shapes and writing words until the page is completely full.
Give the page a title and write the date on it, too.