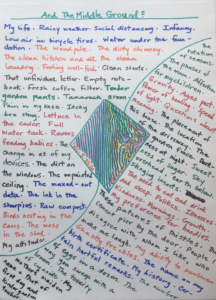 Begin by drawing a shape in the middle of the page. It will be your illustration space. You can make it circle, a square, an amorphous blob, whatever size you like.
The draw two lines running from opposite sides of the shape to the edge of the page so that your page is roughly divided in half.
On one side of the page, write about what's unlikely to change in your lifetime.
On the other side of the page, write about changes you expect to see.
In the middle, draw or doodle.
Give your work a title when you have finished, and write the date on it, too.