Write about things that the sun does and causes. Put the sun in the first part of every sentence.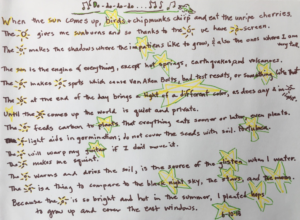 Here are some examples of how your sentences might begin:
Until the sun …
Because the sun …
If the sun …
Without the sun …
The sun …
How the sun …
Where the sun …
… the sun …
When you have filled a page with ideas and observations about the sun, draw a star on the words or phrases that represent something important to you.
Be sure to give your work a title and write the date on it.
Here is a more detailed version of these instructions.