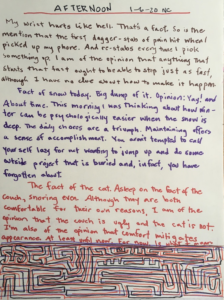 Write about your opinions and where they come from.
Start small–with your immediate surroundings or the events of the day so far. Then see where your opinions take you.
Notice which of your opinions are matter of taste: what you like and dislike, whether you find something beautiful or ugly.
Many opinions arise from experience. Experience is a particularly good source of opinions about the future.
Your opinions might come from other people, whether out of respect and admiration or simple observation. Observing plants, animals, and even rocks can give you opinions, too.
Your opinions belong to you. Write whatever you want about them.