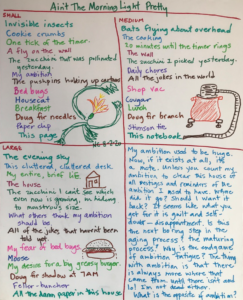 Dwell in the present. What your senses take in. Your physical and emotional state. The contents of your mind and imagination.
Divide a page into four equal sections. Label three of them: Small, Medium, and Large. Ignore the fourth.
What, in your personal present is large? What is small? What lies somewhere in between? Make lists in the spaces labeled Small, Medium, and Large.
When those spaces are filled, choose one item from all that you have listed and write about it in the fourth section.
Give your work a title and write the date on it, too.