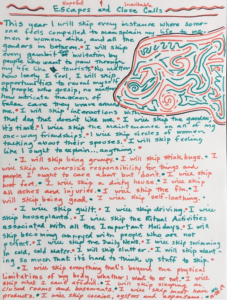 There's a whole new year waiting to happen out there. Of the infinitely many things that could happen, what would you just as soon skip?
Write sentences that begin, "I will skip…"
Imagine your ideal self in a perfect year and announce the many things you will decline. When will you close your eyes, cover your ears, or plug your nose? What will you turn away from? What foods will you leave on the plate?
What will you forget?
Consider the activity of skipping itself. It's not glum. Picture yourself that way, joyously skipping one thing after another all though they year. Write down what you will skip.
When the page is full, give it a title and write the date on it.  Add color and illustration to it if you would like.