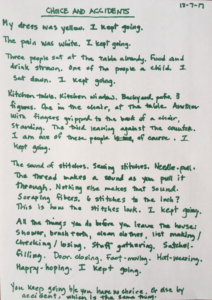 No matter how well we might understand that life is unpredictable, we still make plans.  We have dreams and desires.  We have expectations. Whether it's a set of lost keys or a sudden tragedy, things are always happening that knock us off course.  And when they do, we have no choice but to keep going, because time only moves in one direction.
Write about one time or several times that your hopes were dashed.  Provide some details that you remember, but don't feel obligated to tell the whole story in a way that will make sense to someone else.  After each detail you describe, write the words, "I kept going."
Give your work a title and write the date on it.