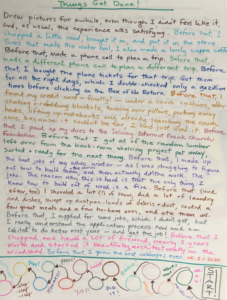 What have you done right lately? All sorts of things, but since they don't need your attention anymore, you've forgotten a fair number of them.
Use the exercise Before That to help yourself remember and write about what you have done right.
Begin in the present. You are writing. You can't do it wrong. Write about the ways you are doing it right. Then write, "Before that …"  and travel back in time to remember something you did right earlier.
After you finish that thought, write "Before that … " again. Jump a little farther back into the past, to a moment when you did another thing right. Write about that.
Keep going like that all the way down the page, beginning new thoughts with "Before that…"  and describing some of the many things you have done right.