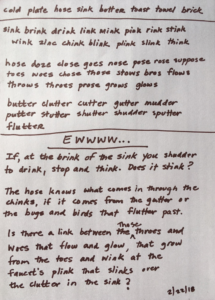 Write 5-10 interesting words across the top line of the page.
Choose one of the words and make a list of all the words that rhyme with it.  Find those words by using this list of sounds that an English word can start with:
A  B  C  D  E  F  G  H  I  J  K  L  M  N  O  P  Q  R  S  T  U  V  W  X  Y  Z  SH  CH  TH  STR  SP  ST  SK  SQ  SCR, SM  TR  BR  FL  BL  SL  CL  CR  THR  PR  PL  DR  GR  GL
 (If you look up rhyming words in a rhyming dictionary or on the internet, the process is less fun and less creative.)
Find rhyming words for at least 3 of the words you've written across the top of the page.  Once you have a hefty pile of words, combine them into sentences somehow.  See what comes out.  A string of sentences?  A story?