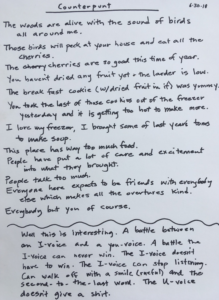 Begin with a random fact.  A one-sentence fact.  Anything at all.
On the second line, add some new information to twist the fact around into an idea that sounds negative or gloomy.
For the third line, begin with that negative-sounding idea and add information to twist it into a sentence that's positive or cheerful.
Add a fourth line to this odd conversation by taking up an idea from the third line and twisting that thought from cheerful to gloomy.
Continue that way down the page, writing a dialog that is at odds with itself, swinging back and forth with each sentence from positive to negative.
Don't worry about telling a coherent story.  You don't have to write things that are true.  Just keep the attitude swinging from one extreme to the other.
Save a little room at the bottom to comment on what you have written.
Be sure to give your work a title and write the date on it.
Here is a longer version of these directions.