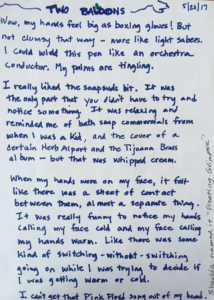 Rub your hands together vigorously until they start to feel hot.  Then place them gently over your face.  Notice what that feels like.
Do this over and over for about 10 minutes.
Pay attention to what the contact with your face makes you notice about your hands.  Pay attention to what your hands make you notice about your face.
Here are further suggestions for how to notice more and more things.
Write the date on your work and give it a title.