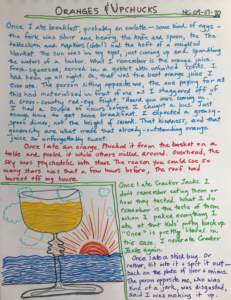 Write about something you ate. Wonderful, horrible, nutritious, junk, whatever it was.
Describe where you were by providing details of what you saw or heard, but not details that identify the place.
If you describe who you were with, provide details that won't identify the person.
Begin by writing, "Once, I ate…" Include other details about when this was, if you like, but no details that would identify the exact moment.
Maybe you will write short sketches of multiple eating experiences, or maybe you'll fill the page with just one.
Regardless of how the page comes out, give it a title and add color or decoration if you like. Put your initials and the date on it, too.