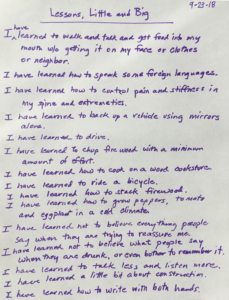 Use the sentence opener, "I have learned…" Complete the sentence by describing something that you have learned in your life.  Write a line or two and move on to something else, beginning again with, "I have learned."
Compare yourself to a newborn. Remember that everything that you know and everything that you can do, you have learned at some point in your life. Everything that you understand about yourself, others and the rest of the world is something that you have learned.
You have learned things by studying, trying, practicing, observing and perceiving.  You have also learned "the hard way," after losses and mistakes.
When you have filled a page, be sure to give your work a title and write the date on it somewhere. Add artwork, color, and decoration as needed.
Here is a more detailed version of these directions.