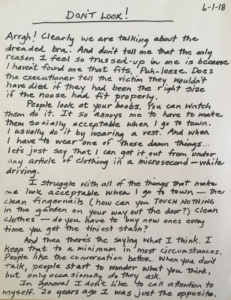 Do you change the way you present yourself to the world as easily as a chameleon changes colors?
How and when do you take steps to blend in with others in a situation?
Changing your patterns of speech, body language, or clothing are common ways to blend in. What steps might you take to appear "normal" in a job interview or at a party?  How does that differ from the way you are when you relax with your best friends?
Are there contexts where it is impossible for you to blend in?  How do you manage them?  How much do you care? How does it feel when you don't blend in? What is it like when you stop making an effort to do so?
Write about the ways that you walk the line between being a unique individual and an "average" member of the crowd around you.
Be sure to give your work a title and write the date on it.
Here is a more detailed version of these directions.