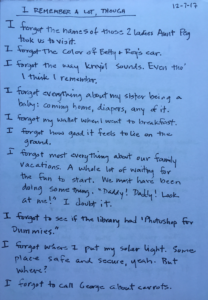 Begin every line of your writing today by carefully writing the words, "I forgot…"
There is so much to forget!  Some things are forgotten forever.  Other things we forget only momentarily, but with great consequences.  We even forget how much we have forgotten.
Try not to plan for what you will write before you actually put down the words, "I forgot."  Watch your hand form the letters and wait for whatever pops into your head as you cross the letter "T".  It can be anything at all, as long as you knew it once, but now you don't.
Give your work a title and write the date on it.
Here is a longer version of these directions.