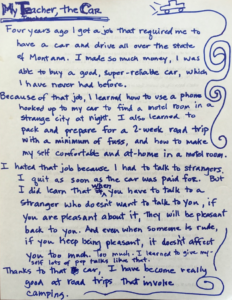 Four years is a long time.  Or maybe it's the blink of an eye.
Whichever way you consider it, both you and your surroundings (animal, vegetable, and mineral) have changed in many ways over the last four years.
And yet, other aspects of your life have remained the same.
What have you learned from the changes?  What have you learned from what has stayed the same?  What skills do you have now that you didn't have then?
Write about these things, and when you have finished, doodle on the page until you have thought up a good title.  Put the title at the top, and write the date somewhere on the page as well.
Here is a more detailed version of these instructions.