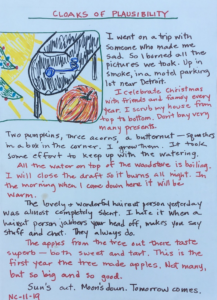 Write a page made of short, three-sentence paragraphs. For these three sentences:
One sentence must be true.
Another sentence must be false.
The remaining sentence can be either true or false.
Write the sentences in any order.  You can begin with a true statement or a false one.
Perhaps your three-sentence paragraphs will connect to form a longer narrative.
Maybe each paragraph will stand alone.
Be sure to give your work a title and write the date on it, too.