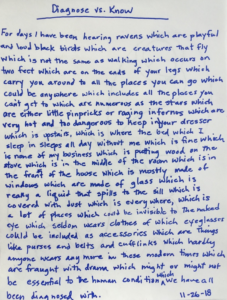 Write a single sentence that fills the entire page by continuously interrupting yourself with the word "which." At each interruption, the phrase beginning with "which" adds a (potentially) distracting detail about what was just written. Before that phrase is finished, another "which" can intervene and take the thought into different territory.
Resist the urge to write a coherent narrative. Don't plan.  Don't look back until you have reached the bottom of the page and put a period at the end of your long sentence.
After you have re-read your work and enjoyed its wanderings, give your work a title. Decorate the page if you like. Write the date on it, too.
Here is a more detailed version of these instructions.