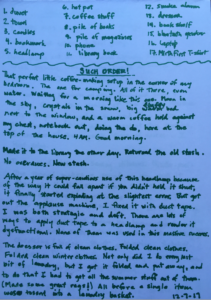 From the instant we open our eyes in the morning to the moment we close them at night, we do a zillion things right.  When we do things right, life goes on smoothly and we don't have to pay attention.
It's when we make a mistake that we notice.
Today write about things that you have done right.
Begin by making a list of 10-20 things in your environment.  Then choose one and write down why it represents something that you have done right.  Then choose another and do the same thing.  And another, and another.
It's especially fun to choose items from your list that could easily be construed as something you had done wrong.
Give your work a title and write the date on it.