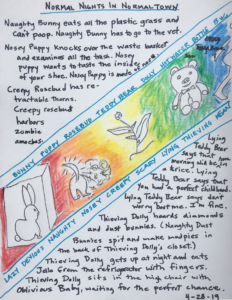 Begin with two lines of notes. Across the first line, write the names of objects or creatures that you consider pleasant, possibly cuddly. You will have room for about a half dozen.
Across the second line, write descriptive words (adjectives) that describe qualities that are unpleasant or distasteful.
Invent a character whose name has one word from each list. You might end up with a name like Devious Kitten, Wicked Daffodil or Vicious Duckling.
Describe some of the things that character does (or might do.) If you run out of ideas for one character, put two more words together and  invent another character to write about.
After you have finished a page, be sure to give your work a title and write the date on it as well.