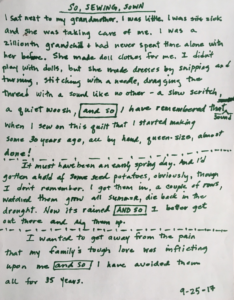 Tell a story that hinges on the words "…and so…"
Perhaps your story will be very short, maybe only one sentence long.  In that case.  Tell another.  And another.  Until the page is full.
Maybe your story will be so long that it fills the entire page and even spills onto another.  Even then, your story will have a certain structure, where the words "…and so…" appear somewhere in the middle and signal some kind of cause-and-effect relationship.
When you have finished, draw boxes around the words "and so." When you look at the page later, those boxes will help you remember why you wrote what you did.
Give your work a title and write the date on it as well.
Here is a more detailed version of these directions.