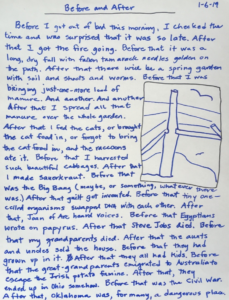 Write a sentence that begins with the word "Before…'
Follow it with a sentence that begins with the phrase "After that…"
Begin the next sentence with "Before that…" and the following one with "After that…"
Continue until you have filled the page, alternating between "before" and "after."
You can write about yourself–or something else. You can jump eons in time, or mere nanoseconds. You can write things that are true and factual, or entirely made up.
The important thing is to keep the alteration going, zig-zagging in time as you work your way down the page.
When you have finished, give your work a title, and write the date somewhere on it as well.