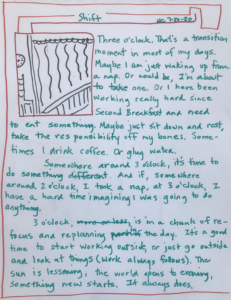 What do you do? is a question that makes a lot of folks bristle.
What do you do all day? isn't much better.
What do you do at 3 o'clock? There's a question that's specific enough to answer.
Write a page about what tends to happen in your waking day right about the time the clock strikes three.
Most days. Or many days. Or often. Somewhat regularly. More than twice, probably again.
Consider the daily flow of your responsibilities and activities. Who comes and goes–in person and electronically? How do your energy and attitude morph throughout the day?
What would you say is reliable about 3 o'clock?
Be sure to give your work a title, and write the date on it, too.