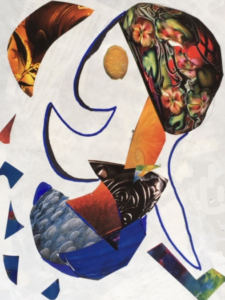 The best advice I can give to someone who wants to revise a first draft and make it "better," is to read it aloud. Not to me, not to friends or strangers, not quite even to yourself.
Read it aloud to an imaginary audience, preferably where no one else can hear you. Read with great expression. Stand up. Prop up the work so your hands are free. Record yourself if you like. The tension of having the recorder on will actually help you out.
Read slowly and pronounce every word as if it matters. Go beyond mere reading and perform it.
Too weird and goofy, you might say. Too time-consuming. Maybe you think that reading it aloud "in your head," or merely whispering or moving your lips will do the trick. It won't. You have to read it big. The discomfort is mild. Get over it. The more dramatic you are, the more you will learn.
Read the whole thing, beginning to end. No matter how long it is.
One thing you are likely to notice is that some parts are easier and more fun to read than others. These parts flow so smoothly that you can get the expression perfect.
You will find other parts to be lackluster, even boring to read. You might want to rush through them. You might find out that it's possible to read aloud without actually listening to yourself!
Compare these two kinds of passages. What does it feel like to read the strong passages? Why are they so fun to read?
What makes your reading falter in the lackluster passages? Can you identify the place where the reading starts to be laborious? What's different? Are you using lots of words to say a little bit? Have you gotten lost in the weeds of the details? Is there some kind of confusion in the logical order of things?
Writerly terms like voice, narrator, or persona might apply to your thinking. What makes the strong passages flow so smoothly? What makes them sound right? Do you notice anything about rhythm, word choice, or diction? Analyzing these passages helps you answer the question, "What makes my writing work?"
 What do you have to do to make the lackluster passages sound just as good as the energetic ones? That's not always an easy question to answer. Sometimes it brings on a lot of experimentation and rearranging. Big chunks might get deleted and new chunks added.
Here is the important fact: when a human voice (yours) can perform a piece of writing from beginning to end while remaining engaged with all the words and ideas, the mind of your reader recreates that voice and remains engaged as well.
When you have read your work aloud once and made some changes, do it again. The more you listen to yourself reading your work aloud, the more you will learn about your own writing and how to improve it.
You'll find the typos, too.