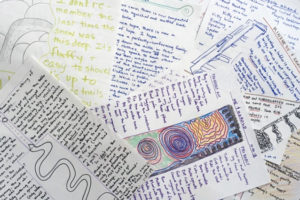 "Keep your hand moving" is the catchphrase of freewriting. The idea is to write with little regard for what you are writing and get yourself into a state where ideas flow freely from your mind to the page.
For many years, probably inspired by Natalie Goldberg, I wrote at least seven pages every day like that. (I have the filing cabinets stuffed with notebooks to prove it!) Later, with the permission of Julia Cameron, I cut the daily output to three pages.
There is a lot to be said for this type of writing. It is really hard to write seven pages by hand without catching hold of some idea and exploring it up, down, and sideways. Freewriting also reinforces the cognitive habit of turning thoughts into words and getting them onto the page. Faced with a writing task, a seven-page-per-day freewriter knows how to dive in.
I have also found that a daily writing habit organized a quiet container in an unobtrusive corner of my mind. Writing ideas tossed themselves in. I called it the Container Effect.
The Container Effect was nothing like planning. No mental list-making occured. In all those years of daily freewriting, I never gave much thought to the writing when I wasn't doing it. Many times, however, when I sat down for the writing stint, I would have a sense of that container dumping itself out, its contents flowing into the writing, or flowing past.
Remembering this is making me nostalgic for my freewriting practice. As if I might take it up again. Here's the unshakable truth: as you get older, that kind of writing will really make your hands hurt. (I've worn out both.) Also, it takes a lot of time. I'm less sure anymore that I want to spend my minutes with my face in a notebook instead of in the wind and shadows.
These days I am on the page-a-day plan. One page. Written with a fat pen. There's no room to get carried away. It doesn't take very long to sit down and do it.
I use unlined paper and begin by drawing a line at the top of the page where I'll write a title when I'm finished. Sometimes I mark out an area that will be reserved for an illustration. Years ago I'd have said that drawing and doodling were distractions or procrastination tools, forms of not-writing. Now I think they are also a way to use your pen to render a moment on the page.
I invent a new writing prompt for myself every Sunday and use it to fill a page each day during the week. One page. When I get to the bottom, I stop and ask myself what it's about. I always come up with some kind of answer and use it to write some kind of title. My favorite titles are jokes that only I understand.
I like these pages. There's getting to be quite an accumulation of them, though not enough to warrant shopping for a new a filing cabinet. The container effect from the long freewrites operates, too, maybe even more overtly, because repeating a writing prompt every day can plant questions inside your noticing.
What I like the very best about the pages, though, is how pleasant it can be to look through them. The titles and illustrations draw you in. You read the words. You recall a moment. You are so glad you wrote that page.