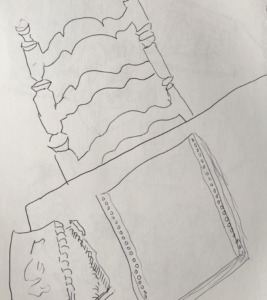 Settle in and read through your pages. Take a closer look at what you have done.  Note the different kinds of pages you have made.  Some are lists, some are paragraphs, some have illustrations.  Do you like the looks of some better than others? Do you remember writing them all?
Does reading what you wrote six months ago make you recall the different season?  What else does your writing make you remember?
Check to see that all of the pages have titles.  If any are missing, add them in.  Consider making a Table of Contents that has the list of all the titles.  You can then read it like it is a poem.
Recall that the goal of a writing practice is to bring the act of writing regularly into your life and accept whatever improvements that brings to you. (Continue…)