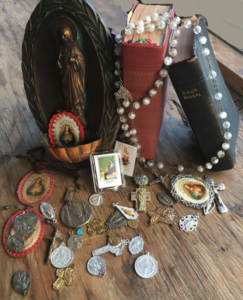 The post-World War II family in which I grew up marked the months and minutes of the years with the rituals and disciplines of Irish Catholic fundamentalism. In plaid school uniforms we sang the call-and-response of morning Mass in Latin. We received the sacraments, made novenas, genuflected for the Stations of the Cross and ate fish sticks on Fridays. On the way to Saturday Confession, we dipped our fingers in holy water to make the Sign of the Cross. We never missed Mass on Sunday. You could go to hell for that.
Dads were silent.  Moms were holy.
Mom saw that we chanted the rosary after dinner.  She helped us build our first May altars and knelt down beside us to recite prayers before bed. We sang litanies on feast days at midnight, twining our schoolchild voices with the scents of incense and beeswax.
Sometimes my mother, my grandmother and all of the aunts would circle round the coffee table after Sunday dinner and disgorge their wooden boxes of religious paraphernalia.  Scapulars.  Rosaries.  Sacred Heart badges.  Whole decks of glistening holy cards with important prayers printed on the back. Hail Holy Queen, Mother of Hosts, hail our life, our sweetness and our hope. Maybe one of them would give you a miraculous medal to pin to your undershirt if you got the croup, but nobody ever opened the tiny vial of water from the grotto at Lourdes where the virgin appeared to the little children.
I tried hard to get all the pieces of this perfect system to add up. Jesus in the manger nailed to the Cross. Three persons in one God. Mortal sin. The Annunciation. Adam and Eve. Honor thy Father and thy Mother meant "Don't disobey." Thou shalt not kill meant "Don't fight with your brother." I was pretty sure I wasn't feeling whatever everybody else was feeling when we knelt, motionless, hands joined, eyes closed.
Nobody said it out loud, but I figured that when you got it right, you felt some kind of radiant light inside. We went to bed with crystal rosaries beneath glow-in-the-dark crucifixes. Haloes crowned the heads of saints while bands of light leapt from their hands. Stars adorned Mary's golden crown. Illuminated heart of Jesus, pray for us. If I kept faking it, certainly one day that radiant light would fill me up, connecting the mysteries and miracles so they would all make sense.
It never happened.
I recalled the religious paraphernalia and the radiant light as I was reading Pure Lust by philosopher Mary Daly.  This would be lust as in lustre, as well as passionate longing—for beauty, truth, and tenderness. That lustrous longing, says Daly, has become encumbered by the dark weight of the knowledge that something is terribly wrong in the world of humans today. In our death-dealing phallocratic patriarchy, she warns, lust has been perverted, has become thrust, has become drilling rigs, missiles, vaginal probes and architectural erections. Sado-society is what Daly calls it—duplicitous, self-destructive, and lethal.
Even so, says Daly, we keep lusting. Lusting after the real reality, a biophilic consciousness grounded in life's obvious affinity for life. Trapped in a sado-society woven of doublethink and deception, Daly claims that women slip lenses for lustre into the cracks when no one is paying attention. Knowledge and truth, preserved and handed down in the intuitions and memories of women continue to radiate towards us.
Ordinarily, this line of thinking is a little bit too woo-woo for me. Then I remember the mothers and the sisters and the aunts, exchanging and admiring their glittery treasures, reflecting and transmitting elemental luminescence as best they can.