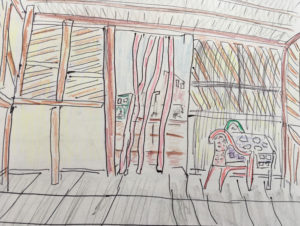 I went to the northwest of Ghana to visit friends who lived in a city called Wa.  Shortly after I arrived, they drew out a yellow banana-shaped pouch that clittered with the sound of the tiles inside, and said, "There's this game we can't stop playing.  We sure hope you like it. It's called Bananagrams."
Bananagrams is one of those games where playing is more fun that winning.
The tiles all have letters on them.  Each Bananagram player works independently with a portion of the letters, arranging them to make a crossword in on the table.  The one who finishes first cries, "Bananagrams!" Then everybody admires everybody else's words and helps them use up the rest of their letters and complete their crossword. If you like puzzles and know how to spell, the game is fun and speedy and can make you feel quite clever.
On the first night in Wa, we spilled the letters and raced to arrange our words beneath the fan in their sweltering cement house.  Days later we did the same, sitting on the hard wooden chairs at the Catholic guest house in Gorum Gorum, the town where we ate that exquisite yogurt and rode camels out into the Sahel.
Bananagrams: rows and columns of words. We built them on a balcony in Ougadougou overlooking a string of motorcycle dealerships and a Total Station.  We arranged letters in a rooftop restaurant in Cape Coast where, across the city you could see a wall of the fortified castle where captured humans were sold and shipped as cargo across the Atlantic.
Bananagram letters clicked into place under palms on a beach over whose south-facing ocean the sun neither rises nor sets.  Next to tall bottles of Brakina beer on the sole plastic table in the vast sand courtyard of a bar in Dori.  We formed one cros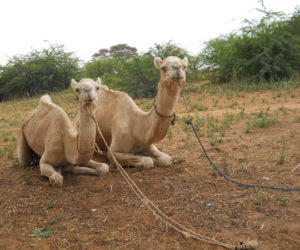 sword after another, by candlelight and kerosene lamp.  By bare bulb. By headlamp.  Out beyond the pool of light, shadows did their tricks while the wash of incomprehensible languages was just another music.
It's good to be playing Bananagrams when you travel because if you weren't, you'd probably be talking.  About your day, or your week, which is pretty much the same day and the same week the others have had, although there were certain things in its unfolding—the interaction with the woman selling the soup, perhaps, or what that driver did—and it's bollixed up your theory of planetary economics or the meaning and purpose of life in the universe, and now you must trawl a lifetime of detail in order to retheorize your place in the society of humans.  Fortunately, all that needn't spill as conversation if you have Bananagrams on the table in front of you.
Between games, you simply arch your shoulders, notice the open sky and remind yourself silently, "Look where I am now."
Which always got me to imagining a Bananagram connection across time and space that linked us with all the other pools of yellow light where circles of clever travelers slide and swap their tiles to spell new words that will connect to the words they already have.
"Bananagrams around the world," I would murmur to myself, imagining a coffee table book.
Occasionally I uttered the phrase aloud.  This would cause one of my companions to look up from across the table and say, "Huh?"