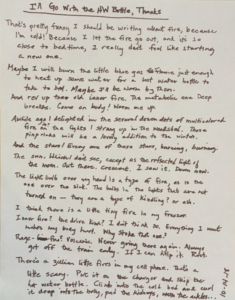 Write about the fires in your life.  The ones that make light and heat. The ones that give your body energy to move and thoughts to think.
What shines? What glows? What has a blinding light?
What burns in a fiery personality? What makes the spark in a fiery exchange?
Unless everything is dark and stone-cold frozen, there has to be a fire somewhere.
Notice the fires in and around you. Describe as many as you can.
Be sure to give your work a title and write the date on it as well.
Here is a more detailed version of these directions.